Robert Johnson: blues legend - More satanic than Slayer.
If you haven't heard the legend of the crossroads, it's that mystical place where you meet the devil to exchange your soul for success and talent.  The story originated with Robert Johnson, a 1930's blues artist who died at the age of 27 (the first musical "legend" to die at that tender age).  This legend would be perpetuated by the song "Crossroads" originally "Cross Road Blues" written by Johnson himself, later recorded by countless artists such as Clapton.  The story would also be retold in a movie featuring the Karate Kid himself, Ralph Macchio, and guitar wizard Steve Vai aptly titled Crossroads.  100 years after his birth, people still investigate the mystery and controversy surrounding one of history's biggest musical legends.
Robert Johnson circa 1935.
NPR reports: "Sunday marks the 100th anniversary of the birth of Robert Johnson. Although he recorded just 29 songs, the bluesman had a huge influence on guitarists such as Eric Clapton and Keith Richards. Johnson is one of the most studied of all country blues musicians, and he's been the subject of many books, films and essays. But the mythology surrounding his life just won't go away.
If you know anything about Johnson, chances are it's the story that he sold his soul to the devil at the crossroads in exchange for his musical talent. That legend reached a mainstream audience with the 1986 movie Crossroads, starring Joe Seneca and Ralph Macchio.
But according to folklorist Barry Lee Pearson, it didn't happen.
"The popular mythology has him as a total loner," Pearson says, "and kind of lived this life in regret as a repayment for his alleged sin of making a contract with Old Scratch."
Pearson, a professor at the University of Maryland and the co-author of the book Robert Johnson: Lost and Found, says none of it is true. In the absence of any real biographical information, Pearson says early blues writers got a little carried away.
"Everybody was so anxious to make this devil story true that they've been working on finding little details that can corroborate it," he says."
See the awesome final guitar duel from Crossroads here.
The proper clothes or pin-up of the 30-60′s. Part I
Some great pin-up drawings.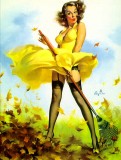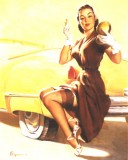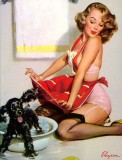 Likera defines Pin-up: "Pin-up… What is pin-up actually? Pin-up means different things for different people. The original meaning is a picture for pinning up on a wall. The first pin-ups appeared around 1890, though the term was first attested in 1941."
Classic cool is always cool in my book.
Mariel Clayton's Barbies are no role models.
Mariel Clayton's vision of Barbie is closer to Showtime's Dexter than the wholesome pin-up girl everyone is used to.
Koi Koi Koi states: "Mariel Clayton is a self-taught photographer. In an action figures shop in Tokyo she had the vision of the world where all those dolls' stories happen, and she wanted to visit it and take photos. Her main character is the most famous doll of all times: Barbie, that after throwing away (literally, very often) her fashion victim clothes, become executioner and gives vent to her bound violence on Ken. And, admit it, you'd do it too!"
She [Clayton] says: " (I'm) A Doll Photographer with a subversive sense of humour. I believe that life is a hysterically messed up place, and if we don't laugh at it, we'll never understand it. I didn't have a hard childhood, I was never abused, I'm not an 'evil, dark or psychologically scarred' person. I just think what I do is damn freaking funny – and I like to share the humour with people."
Even Barbiefest.com has this to say: "Mariel Clayton is of the opinion that Barbie's figure is highly unrealistic and would require no less than 27 plastic surgeries to emulate in real life. Instead of just ranting and raving about the plastic girl whose story is based only on her outfits and their ability to attract Ken—the single man in her life—Mariel Clayton has created some of the most disturbing (and intriguing) scenes ever used with a Barbie doll, which she then photographs."
I have to agree with Mariel.  It's freaking funny.  Check out her website with some of her other work here: www.thephotographymarielclayton.com